DIY Trinity Bible-in-a-Year Challenge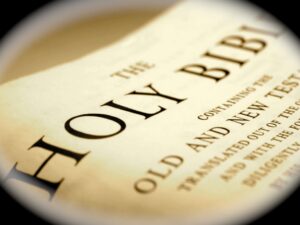 Have you ever read the Holy Bible cover to cover? If you didn't finish, how far did you get? Were you trying to do this alone or with a group? Would you like to enter a personal challenge to read the bible in a year's time?
From August 2021 to September 2022, about 25 members & families participated in Trinity's Bible in a Year Challenge. Our bible readers found this process very inspiring and meaningful. They discovered scriptures that they had never heard read in church or anywhere else. They enjoyed sharing their progress, insights, and questions with other participants. Some stated that they wanted to repeat the challenge using a different reading plan.
We know that the Holy Bible is the central, written basis and resource for understanding our faith and for living our lives as Christians. We know the importance of the gospel stories in Matthew, Mark, Luke and John. We hear the scripture readings on Sundays and some attend bible studies during the week. Yet many of us have little knowledge of all the other books included in the scriptures between Genesis and Revelation. There is so much we are missing that could enrich our faith as individuals and as a congregation when we don't know the wealth of the scriptures throughout the Holy Bible. Martin Luther said, "The Bible is the cradle wherein Christ is laid."
Find more helpful resources on the Bible Challenge Resource Page.
Here's how you can get involved in this adventure:
1. Choose a version of the Bible that is comfortable for you to read. You may use your own bible or an online version of the Bible. Four popular translations are: New Revised Standard Version (used in our worship services), New International Version, Today's English Version (Good News Bible)and New American Standard Version. Need help making your choice? Call, text, or email Pastor JMe.
3. Choose a reading plan. You may download the plan used in the original Bible Challenge. This is a plan for youth and adults to use that is thematic or connective in nature. The goal is to make as many associations as possible between the different parts of Scripture while still reading individual books of the Bible from start to finish. Thematic-Bible_reading_Plan-365_days Or, you are welcome to choose another plan if you desire. There is, also, a BibleReadingPlan-Families, bible-in-a-year reading plan that parents may use with their younger ones.
4. Choose the date to begin reading:, depending on what works best for your schedule. The idea is for you to complete the entire bible exactly one year from when you start.
5. Choose a particular time of day to do your reading: You may choose morning before daily activities begin or evening before going to bed. For families you can choose a mealtime or another time when you are together. It's best to schedule your reading time on your personal calendar so it will become a daily event or habit to remember.
6. Keep track of your progress: You can check off each completed daily reading on the plan or on a calendar. If you want, you may write down passages that are particularly meaningful to you and try to memorize them. I used index cards and kept them in a small binder.
7. Let family and friends know you are doing the DYI Bible Challenge and invite them to join you. This will provide opportunities to share your reading progress, what you are learning or re-learning about the story of our faith, questions you may have, and how this experience is enhancing your life, spirit and relationship with the Lord.
Tips on Reading the Bible Daily
1. Start reading the Bible today — there is no better time, and there's no reason to wait.
2. Set aside a specific time each day. Set your schedule and then stick to it. Mornings are great, but feel free to use any time that works consistently for you.
3. Say a short prayer to God before you begin, asking the Holy Spirit to give you wisdom and understanding, then be refreshed by the words you read!.
4. When reading as a family, take turns reading the passages for the day. If you have time, take a few minutes after reading to talk about what was read. Make note of questions that arise to share when you check in with the Trinity group on Facebook or Zoom.
5. Read the Bible for the sake of learning, not simply to accomplish your next reading. Feel free to write a few notes or mark interesting or meaningful passages in your bible. Write down questions to ask the pastor or to look up online.
6. Practice forgiveness and grace for yourself if you happen to miss a day or two or even if you feel you need to stop.
This challenge is meant to bring joy and inspiration to your life, and not be a burden.