Trinity Church is a member congregation of the Virginia Synod of the Evangelical Lutheran Church In America [ELCA], one of the world's largest Christian denominations. Our congregation was gathered in 1765 by 16 German immigrants who had migrated from Pennsylvania. The building in which we worship was constructed around the turn of the 20th century, and is the third worship space utilized by the congregation.
While our history is vital to our present, we focus on the future and on what God is calling us to be and to do in the present. The members of Trinity Lutheran Church welcome everyone, believing that, "In Christ we have all been made one" – in a great fellowship of Love!
We are a dynamic, growing, joyful part of the family of God – and we invite all to be a part of our journey of faith, honored by our 250th anniversary in 2015.
If you're interested in uniting your heart and hands with Trinity Church, please contact the Church Office. Inquirer's classes are scheduled throughout the year as we continue:
"Recapturing Our Past and Re-envisioning Our Future"
Long History           
Trinity Church was founded in 1765 by a small group of German immigrants who moved south to the Shenandoah Valley – reminiscent of their homeland.
Originally, we shared space with the German Reformed congregation – in a tiny log building located on what is now Mulberry Street: at the graveyard which still exists and where many of the town's first settlers are buried. We worshiped only twice a month because there were no regular pastors available until after the American Revolution – and, even then, there were only about 16 Lutheran pastors in the whole country!
In 1785, The Rev. Christian Streit came to serve Trinity, and stayed 26 years! Seemingly, as soon as he left, the log church was torn down (1812), and – since the German Reformed members had died out – and the property came into the hands of the Lutherans. A brick church was erected on the same site, including a tower bell given by a George Lempley. In 1843, the membership of the Evangelical Lutheran Church in Newtown-Stephensburg was recorded as "36 males and an equal number of females."
In 1851, the greater part of the (now) "old" church was demolished, and "a neat handsome structure was built of brick and stone," consecrated on May 17.  During the War Between the States, Trinity saw service as a hospital, treating troops from both sides. The Federal government later compensated the congregation for the property mutilation which occurred.  In 1880, the congregation spent $800 to remodel the building; and in 1884, it was re-dedicated as Trinity Evangelical Lutheran Church of Stephens City. 
A mere twenty-six years later (1906), the present sanctuary was constructed just across Mulberry Street from the old building, and the bell tower still houses the original "Lempley Bell" rung each Sunday to call the community to worship. Trinity's cemetery is the resting place of many of Virginia's pioneer settlers.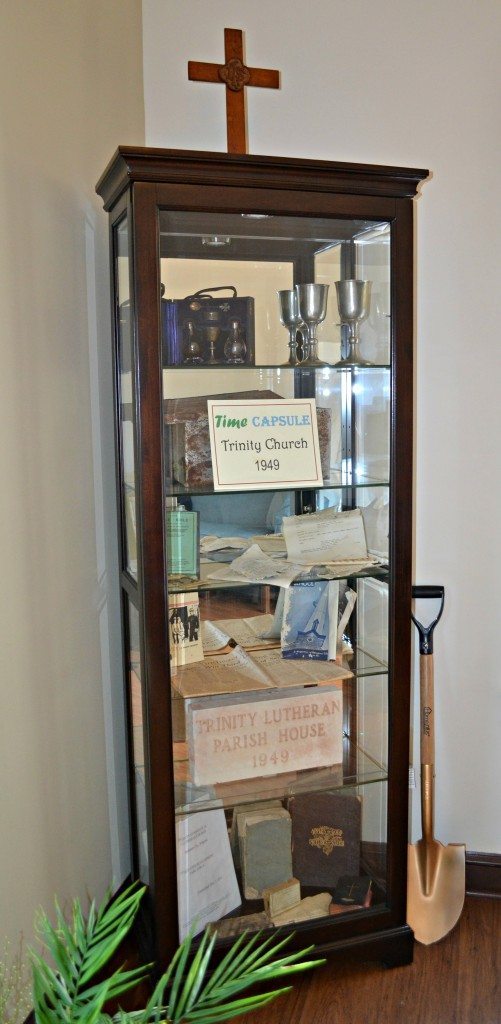 Future Looking
Today, Trinity continues as a lively, creative, service-to-others oriented Christian congregation – a member of The Evangelical Lutheran Church In America (ELCA) with church-wide offices in Chicago. We're a 5-million member strong "mainline" denomination with 68 Synods (geographical divisions) in the U.S., and over 10,000 Ordained clergy.  The ELCA – along with other Lutheran denominations around the world – is a member of The Lutheran World Federation- a service and mission agency serving people globally in times of local disaster.
Trinity has recently completed the most exciting and challenging opportunity in recent memory: the rebuilding of an outdated and obsolete building adjoining the present sanctuary (810 Fairfax St.- Rt. 277).  Our Growing in God's Grace campaign has resulted in a new 10,000 square foot state-of-the art addition, consecrated in November, 2014, to the existing Sanctuary which houses a new Parish Hall, Administrative and Educational space, a bright and inviting Nursery, Courtyard, and a Prayer Garden complete with a columbarium, among other facilities.  Our historic sanctuary also received a facelift with an expanded Chancel, fresh paint, new lighting, and a newly-restored pipe organ.
A 'Monotheistic' Christian Church
Trinity is a Christian church: part of one of the world's major monotheistic (one God) religions, and believes in Jesus Christ: a 1st Century Jew who lived and died in biblical Israel under Roman rule in a province the Romans called Palestine, and follow his teachings.
Christians believe that Jesus is God's own son, sent by God to become human to re-establish the perfect, loving relationship between humans and God – which God had created at the beginning of time but was broken by our "first parents," Adam and Eve. As the Son, he is divine – but he was also a human being who lived among us on earth.  He spent his adult life in ministry with his disciples spreading a message of God's love, peace, hope and forgiveness.
But, as his following grew, prevailing religious leaders became increasingly distrustful and angry with him, until he was eventually turned over to the Roman government by Judas, one of his own disciples. The Roman governor Pontius Pilate then sentenced him to execution: nailed to a cross in the outskirts of the city of Jerusalem.
But death did not contain him. And this is the crux of our faith: on the third day after his crucifixion (the day Christians call Easter) Jesus appeared among his followers for 40 days as the risen, living Lord, continuing to spread the Good News of our salvation before returning to heaven. As Christians, we believe that Christ lives among us today by the power of God's Spirit, present – especially – when the Good News is preached and the sacraments are administered. His story and teachings are depicted in the New Testament of the Bible.