Trinity Lutheran Church is a congregation of the Virginia Synod of the Evangelical Lutheran Church In America [ELCA] organized in 1765 by 16 German immigrants who had migrated from Pennsylvania. The building in which we worship was constructed around the turn of the 20th century, and is the third worship space utilized by the congregation.
While history is vital to our present, we focus on the future and on what God is calling us to be and to do in the present. Members of Trinity Lutheran Church are welcoming, believing that, "In Christ, we have all been made one" – in a great fellowship of love!
We are a  joyful part of the family of God – and we extend an invitation to join us a journey of faithful living and service.
If you're interested in uniting your heart and hands with Trinity Church, please contact the Church Office.
Long History           
That small group of German immigrants who moved south to the Shenandoah Valley found their new home reminiscent of the land they left behind.
Originally, the congregation shared space with the German Reformed congregation – in a tiny log building located on what is now Mulberry Street at the cemetery which still exists and where some of the town's first settlers were buried. In those early years worship was held  twice a month because there were no regular pastors available until after the American Revolution – and, even then, there were only about 16 Lutheran pastors in the whole country!
In 1785, The Rev. Christian Streit came to serve Trinity, and stayed 26 years! After he left, the log church was torn down (1812), and, since the German Reformed members had died out, the property came into the hands of the Lutherans. A brick building was erected on the same site, including a tower bell given by a George Lempley. In 1843, the membership of the Evangelical Lutheran Church in Newtown-Stephensburg was recorded as "36 males and an equal number of females."
In 1851, the greater part of the (now) "old" church was demolished, and "a neat handsome structure was built of brick and stone," consecrated on May 17.  During the Civil War, the congregation, like others in the Valley, served as a hospital treating troops from both sides.  In 1880, the congregation spent $800 to remodel the building; and in 1884, it was re-dedicated as Trinity Evangelical Lutheran Church of Stephens City. 
A mere twenty-six years later (1906), the present sanctuary was constructed just across Mulberry Street from the old building, and the bell tower still houses the original "Lempley Bell" rung each Sunday to call the community to worship.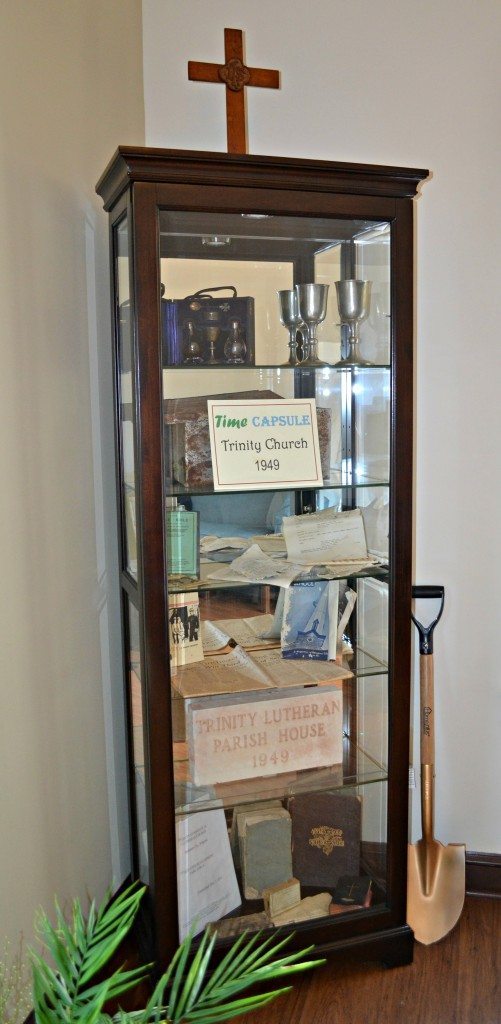 Connections make us stronger …
Today, Trinity strives to be a congregation rooted in God's word, devoted to care for one another and service-to-others. In partnership with other congregations of the Virginia Synod and Evangelical Lutheran Church in America (ELCA) Trinity's capacity to serve is extended in programs like the ELCA World Hunger Appeal, Domestic and Global Disaster Response.
In Virginia, there is a strong historical connection to agencies and institutions whose specialized ministries provide services a single congregation alone cannot provide, such as care and support of  children and their families through Lutheran Family Services of Virginia; commitment to higher education through Roanoke College; care for the elderly through Virginia Lutheran Homes with campuses in Roanoke, New Market, and Virginia Beach; National Lutheran Communities & Services, also serving seniors in Winchester, Staunton, and Rockville, MD; education of clergy through seminaries of the church;  ministry to those in prison through Grace Inside; camp and retreat centers to foster community and spiritual growth through Caroline Furnace Lutheran Camp and Retreat Center; Hungry Mother Lutheran Camp. These connections demonstrate that congregations and organizations working together can do far more together than anyone can do alone.
Trinity completed an ambitious and challenging opportunity in recent memory to replace an outdated facility adjoining the present sanctuary (810 Fairfax St.- Rt. 277).  The congregation's Growing in God's Grace Campaign resulted in design and construction a 10,000 square foot state-of-the-art addition, dedicated in November 2014, which houses a Parish Hall, Administrative and Educational space, a bright and inviting Nursery, Courtyard, and a Prayer Garden complete with a columbarium, among other facilities.  The historic sanctuary also received a facelift with an expanded Chancel,  new lighting, and restoration of the pipe organ.