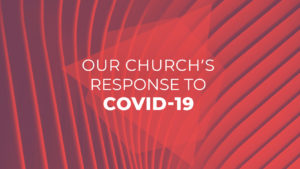 Trinity- A Little Church with a Big Heart[/caption]
We've returned to in person worship! Although we are not requiring masks at this time, we do encourage wearing a mask if you are not fully vaccinated. Masks are available near the entrance to the worship area. If you are concerned about attending in person or are feeling unwell, we are live-streaming worship services through Zoom and on our Facebook Page. (You don't need a Facebook account.) If you miss the live stream, you may view recorded services on Facebook. Small communion kits are available at the church for those who would like to take Holy Communion with other worshippers while watching the live stream.
If you have any needs, please contact the Church Office or Pastor JMe (717-621-9600), and we will endeavor to respond with the assistance required. If you feel you have any of the symptoms that have been identified as related to COVID-19, please call your doctor or click on the following link for an easy guide to what your symptoms may mean: What to Do if You Think You Have COVID-19
We encourage you to reach out to other members of your church family, especially those you miss on Sunday mornings. Continue to converse by telephone or visit one another, if appropriate, to provide companionship and support. Please give special attention to those in our congregation whom we know are home bound or restricted to nursing care facilities. Although visiting in person may not be possible, our sisters and brothers rely on us to keep them connected with the church community. Telephones, notes and cards will be especially meaningful to our elders at this time. To paraphrase Paul, not even a corona virus pandemic can separate us from the love of God in Christ Jesus.
Additional links for more information about COVID-19 and steps to keep you and your family healthy:
U.S. Center for Disease Control
Virginia Synod ELCA
Helpful links provided by Valley Health
Virginia Department of Health
http://www.vdh.virginia.gov/coronavirus/
Valley Health
www.valleyhealthlink.com/covid-19
General Guidelines for Businesses
https://www.cdc.gov/coronavirus/2019-ncov/community/organizations/businesses-employers.html
Community and Faith-Based Guidance
https://www.cdc.gov/coronavirus/2019-ncov/community/organizations/index.html
Guidelines for Retirement Communities
https://www.cdc.gov/coronavirus/2019-ncov/community/retirement/index.html
Guidelines for EMS
https://www.cdc.gov/coronavirus/2019-ncov/hcp/guidance-for-ems.html
Guidelines for Law Enforcement
https://www.cdc.gov/coronavirus/2019-ncov/community/guidance-law-enforcement.html
Guidelines for Correctional Services
https://www.cdc.gov/coronavirus/2019-ncov/community/correction-detention/index.html
Schools and Childcare Guidelines
https://www.cdc.gov/coronavirus/2019-ncov/community/schools-childcare/index.html
Guidelines for the Homeless
https://www.cdc.gov/coronavirus/2019-ncov/community/homeless-shelters/index.html
Related Health Resources for Life During a Pandemic
Help with addiction issues:
Drug and Alcohol Rehab Centers Drug and Alcohol Rehab Centers
Drug Abuse Hotline Drug Abuse Hotline